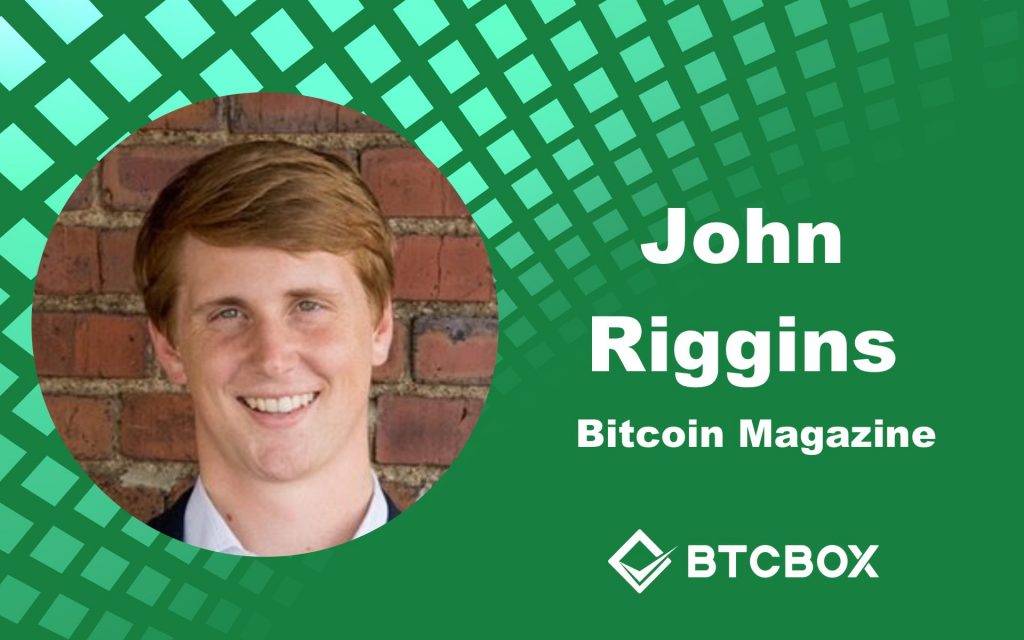 John Riggins Is the Head of Operations at BTC Inc, parent company of Bitcoin Magazine. He spent several years in Shanghai and mainland China where he interacted with the Asian Bitcoin community. With a strong group of tech-savvy friends who were interested in Bitcoin and digital money since University, he joined the space through Bitcoin Magazine to serve the Bitcoin community in the form of Media. Riggins has worked with some of the most influential and prominent people in the Bitcoin community in Asia, including Vitalik Buterin, Bo Shen and Xiao Feng.
Interview Date : 9th December 2020

How did Bitcoin Magazine start?
I got into Bitcoin in my senior year at University in 2013. A group of friends discovered Bitcoin, and us being a little libertarian-minded, we thought it was very interesting. After college, I took a job at FedEx, an American multinational delivery services company, and worked in a revenue strategy group developing alternative payment options for countries around the world. Thanks to that position, I spent some time in Asia. Together with the team back then, we onboarded Alipay and WeChat pay. Spending some time especially in China blew me away by how far ahead Asia was getting in terms of digital payments. Around the same time, my group of friends from college who got into the Bitcoin space had started a Bitcoin company. They had decided that, as fresh college grads without real connections, experience, and exposure to this still-nascent industry, the easiest way to get involved was via the media industry. Back in 2014-15, there was a lack of onboarding material for Bitcoiners not only in English but in anything. David Bailey, the CEO and founder of Bitcoin Magazine, and the team started a media called yBitcoin and over time other brands were added, including Bitcoin Magazine, to form BTC Media.
How did you join the Team?
Our CEO was looking to branch out to become a more international media group. And, because I had majored in Mandarin in College and had experience with the Chinese business market, he called me up and offered me a position in his team. Later, we opened our Shanghai office in 2015. In moving to Shanghai, we raised a little funding from a new VC in Shanghai FBS Capital. Later we also opened a media brand in Korea with a partner there, thus we were able to create and expand crypto and Bitcoin media in the Korean language as well. I was very fortunate to receive the opportunity of working with some of the smartest people in the industry.
Wasn't Bitcoin Magazine created by Vitalik Buterin?
The team went to conferences all over the US and the world meeting all kinds of companies related to Bitcoin after we had just launched. At that time, Vitalik Buterin had started Bitcoin Magazine, and he had done some great writing. Through some connections and interactions, the yBitcoin team got to know the Bitcoin Magazine team and that is also the time when Vitalik founded Ethereum. So we bought Bitcoin Magazine from the founding team, and thus, David and his team became the custodian of Bitcoin Magazine. That is how our magazine became a growing subset of the media business.
How is Bitcoin Magazine's connection with Vitalik's today?
We bought Bitcoin Magazine from Vitalik, but we were in close contact running in the same circles in the industry before we made that acquisition. Today, we consider the Bitcoin Magazine brand the bible of Bitcoin, and take our job as the magazine's custodian very seriously. It's one of the things we are proud of to be today.
How is Vitalik as a person?
Vitalik is a brilliant guy. If you read some of his early writings on Bitcoin, you get a sense of his way of explaining technical aspects of Bitcoin. They are readable and it comes across well with a range of intellects and expertise in technology, which was very valuable for Bitcoin Magazine's early phases. I spent some time with Vitalik in Shanghai as we were partners in Shanghai Venture Capital. I was impressed by how he drove into Chinese and essentially became fluent in the language. He truly is full of curiosity and respected in the industry.
What do you think of Ethereum?
We were skeptical of Ethereum in the beginning, but today it has developed into a massive multifunctional infrastructure with potential that is very different from Bitcoin. As a company, we are more on the pro-Bitcoin side above everything else, but we still have a lot of respect for him and what he did for Bitcoin Magazine. He remains our friend, and he still believes in Bitcoin. I don't think he has something negative to say about it nor the technology. He wanted to do something different and did so by starting a project. That's what he has continued doing.
How would you describe Bitcoin Magazine?
I would describe it as the bible of Bitcoin. It holds some of Bitcoins earliest writings written by people who have made it in the industry. It also has some of the older pieces with the best technical coverage of Bitcoin's development for its whole history. Aaron van Wirdum, who I would consider being one of the best technical writers in Bitcoin, recently collaborated with Pete Rizzo, a long time former Coindesk Editor-in-Chief, to write a fantastic article called"The Untold Story of the First Bitcoin War". I think that is an article example that speaks to the quality of writers who are Bitcoin-focused. There is also some definitive writing about the lightning network which also were some of the earliest written in a readable language.
How do you fact-check detailed news articles?
We have a network of journalists who have typical journalistic sources and fact-checking processes. The industry is small and people talk to each other, so it's usually not too difficult to get to the bottom of any controversy. Nevertheless, typical journalistic actions need to be confirmed by talking to the right people and doing the right fact-checking to conclude an analysis that sticks to the facts.
How does the team stay in touch when you have geographical barriers?
We don't have a single point of failure geographically. Our headquarter is in Nashville, Tennessee, but we have people in Europe, Asia, as well as from the west coast to the east coast in the US. Other media platforms like Cointelegraph, for example, went with the model of franchising out to different regions early on. Due to this, as they and the industry have grown, it may have cost them a little communicative and cooperative quality. Such media does need to coordinate internally in a more efficient manner. Even though we have people employed from different parts of the world, we don't have franchises and work closely with people wherever they are.
Interviewer , Editor : Lina Kamada
【Disclaimer】
The Article published on this our Homepage are only for the purpose of providing information. This is not intended as a solicitation for cryptocurrency trading. Also, this article is the author's personal opinions, and this does not represent opinion for the Company BTCBOX co.,Ltd.