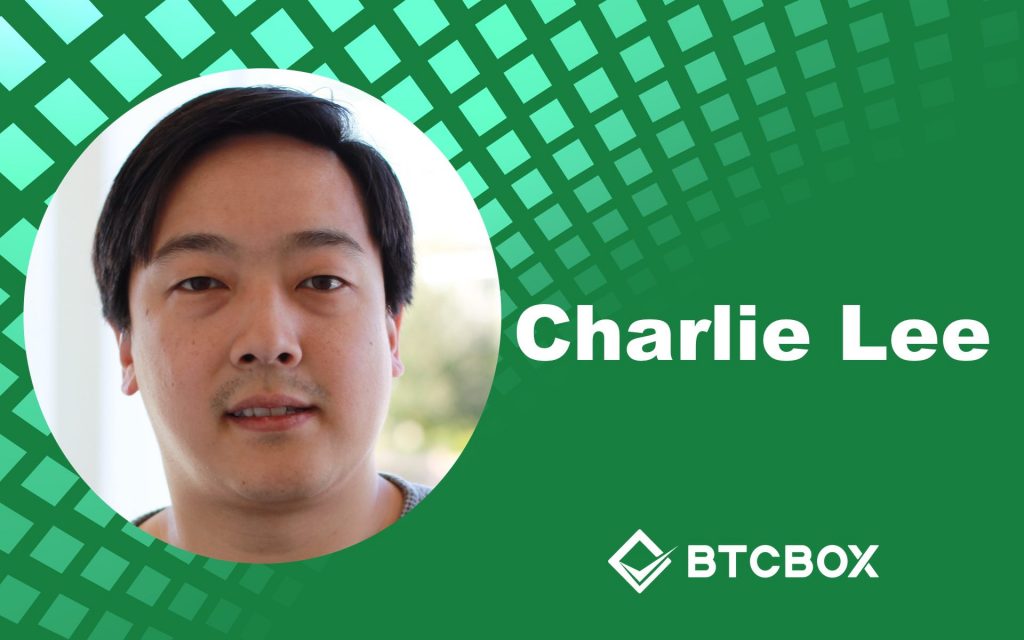 Charlie Lee created Litecoin, it is intended to serve as "silver to Bitcoin's gold". Charlie Lee has been in the Crypto Space since 2011, was the Director of Engineering at Coinbase from 2013-2017, but is focused on Litecoin solely at the moment and serves as the director of the Litecoin Foundation.
Interview Date : 2nd December 2020
Charlie Lee (All Interviews)
What were some early coin launch issues?
I entered the Bitcoin space in early 2011, and around mid-late 2011, a small altcoin boom had formed. That was the first time Altcoins started to become popular as people would fork the Bitcoin code and launch their coins. The problem with many of the early Altcoins was the creators were greedy. They would pre-mine a lot of coins for themselves before launching their coins. In other words, in the genesis block of the coin, they would assign millions of coins to their own address. Later, they would promote their coin, and if the coin would become successful, they would have made a lot of money.
How was the pre-mining coin culture?
One of the early coins called Tenebrix was the first coin to use the scrypt proof of work mining algorithm, which made CPU mining possible again on a coin. The creator was anonymous and he gave himself 7 million pre-mined coins. After the launch, the coin was fairly successful, but the community wasn't very happy with the pre-mined coins. Hence, the community pushed to create a fair version of Tenebrix, called Fairbrix. I helped the technical side of that coin; it was launched with 0 pre-mined coins. It was very much identical to Tenebrix but without the pre-mined coins. However, there were some issues with the launch and it didn't take off. After experiencing that failed experiment, I decided to create a new coin and made sure to make it fair with 0 pre-mined coins. I didn't give myself any coins, took all the good features of other coins like the scrypt proof of work mining algorithm to secure faster blocks and transactions, and launched it. That was Litecoin, and I call it "silver to Bitcoins gold", and the rest is history.
Are there any ethical issues in generating a Coin?
I wouldn't say it is "not ethical" to hold your coins, but when people complain saying " You don't have skin in the game", the reality of the matter is that it is my creation and I am tied to the success of Litecoin. Now, if Litecoin succeeds, that is good for me. I don't need to additionally tie my financial interest in the coin. It actually could be a misalignment of interest for the creator to hold the coin. For example, one could be releasing fake news, and making announcements to pump the price to profit off of. That's not good for the success of the coin. That said, I don't think it would be an ethical issue to hold your coin, but it depends on what you do and what your actions are as a coin creator. If you are working on your coin and your goal is to make it successful, the price will follow that.
What do you see Litecoin as?
I have been talking about Litecoin being silver to Bitcoins gold since the beginning. I think that statement is still applicable. The goal for Litecoin is to function as money, and it's still being used as a store of value and is a means of exchange. Approximately 500 billion dollars have been moved on the Litecoin network over the years, and it has run flawlessly for the past 9 years without any downtime or issues, which cannot be said about most other coins, including Ethereum and Bitcoin. So, it is a very good tool for storing and transferring value.
Is there Privacy features to Litecoin?
Privacy is one of the aspects of Litecoin I am working on lately. It is important for money to be fungible, and you need privacy for fungibility. People don't want to think about which coins to spend because they differ in value. Every single Litecoin of all the 84 million should be indistinguishable from each other. Unfortunately, that is not the case today which is something I am working on. This has brought us to our next project, MWEB. MWEB stands for Mimblewimble Extension Blocks. Extension blocks are similar to sidechains. It is like a sidechain that is attached to the main chain, so one MWEB block exists for every Litecoin block. Using the MWEB protocol for transferring coins allows for Confidential Transactions. With Confidential Transactions, when we send coins, no one will know how many coins were sent. Mimblewimble is also very scalable. It's one of the few privacy-enhancing improvements that maintains scalability of the blockchain.
What is the main difference between Litecoin and Bitcoin?
The main difference between Bitcoin and Litecoin is the mining algorithm. Bitcoin uses the SHA-256 Hash algorithm for the mining hash function whereas Litecoin uses scrypt. I chose to use a different algorithm because we don't want Litecoin miners to compete with Bitcoin miners, i.e., If Litecoin would have used the same algorithm, it would be attacked easily by the Bitcoin miners because it has a much smaller hashrate than Bitcoin, which dominates the network. We have seen BitcoinGold get attacked by SHA-256 miners, and Ethereum Classic get attacked by Ethereum miners. This happens because the smaller coins have a much smaller hash rate and a much smaller network. Thus, it's very easy for miners to attack it. Therefore, using a different algorithm prevents miners from attacking a smaller network with the same algorithm.
What is the problem with Algorithm Dominating Networks
The other reason for why I chose scrypt is because, at that point, scrypt was only CPU minable.  That was good for the initial stages of a coin when the community was basically only made of miners. As a creator, I wanted to allow anyone with a CPU to be able to join the community and the network, and start mining Litecoin. It was a place for miners and non-miners to enjoy the mining community and Litecoin community.  Over the years, GPU's emerged and the software started to run with them. Today, Litecoin is protected by its scrypt network,  and it dominates the scrypt mining network with 97%, thus making it very hard for anyone to attack Litecoin.
How do you perceive DeFi?
I am mostly focused on the monetary part of cryptocurrencies. DeFi is doing something very different than being a store of value. I don't think the DeFi space is competing with Litecoin, but it has to mature and grow a lot more than what it currently is. Presently, every other day you hear about "a hack" or "the team taking all the coins and disappearing". Hence, there are a lot of problems to be solved with DeFi before it can become reliable. I am not sure that DeFi will work in the end, because it's just too easy to write buggy software. Any small bugs in a network can lead to losing millions and billions of dollars. It is hard to write robust software that people can rely on, and many DeFi creators are not taking the necessary steps to make it robust. Conversely, if there are any hacks or scams in the traditional financial system, the banks can reverse the transaction. If there is a bug that causes exchanges to go down or function incorrectly, banks can reverse those actions and nullify the errors. The reason for that is banks are a central entity. Besides, you do need centralization for those large systems, because if things go wrong, billions or trillions of dollars could be at risk. Hackers and thieves should never get away with it, and due to their centralization, they can prevent that to a degree. Thus, I am not sure if decentralized finance makes sense, or will work out, but we will have to see what happens.
When is a Hard Fork acceptable?
Hard forks should only be carried out when there is a critical fix. It is not a good idea to keep on hard forking because people become complacent to it. Hard forks happen every 6 months in certain coins, and people get used to that. Many have become complacent. Let's say the 21 million Bitcoin's hash rate is decreasing, and the pricing is not doing well. To increase the security, the team decides to increase the coins to 22 million, and distribute that to miners to entice them to come back to the coin and protect it. If something like this can convince the community to come back and protect it, that is a very critical point that many users would object to. However, if this happens every 6 months, it will be easier to convince people to undergo the hard fork. It will escalate to become a slippery slope, and by the time you realize it, the coin might have changed to a different asset than what it originally was. Now, can it be trusted? I don't believe so. This reflects over the protocol for why Bitcoin and Litecoin will not allow any hard forks.
What do you think about NFTs?
Non-Fungible tokens are interesting assets and similar to baseball cards on the blockchain. The idea of having a unique non-fungible and limited asset is intriguing. You cannot duplicate the NFT, and if enough people value it, it becomes valuable. Its theory is similar to Bitcoin only being valuable if people value it. The same applies to NFTs; there is limited supply and if you value it, it becomes valuable. Conversely, there will be no value in an asset if there is unlimited supply regardless of how much you value it. I think the NFT concept is cool but I am not sure if it will work out. I think about who and why there is value in a certain NFT token in the first place, and if the value does come from the asset itself or not. The value of Bitcoin and Litecoin comes from the inside of the coins. It is valuable because the network is secure, and you can easily move value around. Besides, you can send value easily, cheaply, securely, and fast to someone on the side of the world.
However, digital artwork is not that valuable because it is on the blockchain. You can easily copy artwork as it becomes an image online. That is not to say all NFTs are valueless. Some NFTs are valuable because they are useful in, for example, a game. Some games have NFTs with a rare attribute making it a powerful tool to use in the game. In such cases, the game is the central party giving the NFT value. But, do you need a decentralized NFT in a centralized game? The game can have an efficient database to store and manage tokens. There is no need for a decentralized NFT because the centralized party is giving it value giving it a finite number. For example, the creators of a game have a database of all the players, current holdings, and ownerships of items, so they can easily figure out who owns a rare attribute token with a limited number in the existence of the game. No player of the game will distrust the creators and their statements. Thus, there is no need for a decentralized system managing that.
Do you see a Shift in Mentality happening?
Bitcoin is at its all-time high, and everyone is very bullish in the space. This is due to a couple of reasons, one of them is Paypal. Recently, Paypal announced that they are permitting Bitcoin, Litecoin, Ethereum, and BitcoinCash trading. This is opening the crypto space to another 300 million or more people. Secondly, companies like Microstrategy announced that they are putting 50% of their company treasuries into Bitcoin because they believe Bitcoin is a better store of value more than anything else, even gold. They essentially are considering it a conservative move rather than a risky speculative one. This shifts the narrative a bit for the space from being thought-about as a risky and speculative and very volatile asset to " not as much as the US dollar is risky". More people understand that the US dollar eventually is going to get inflated away and get devalued. Thus, holding Bitcoin is a smart and conservative move. That shift in mentality is slowly starting to happen and is very bullish for Bitcoin, Litecoin, and other cryptocurrencies.
What does "Direct Fiat, Indirect Bitcoin" mean?
The government is printing money and they will keep on printing money. This boosts the stock market directly, which is indirectly good for crypto. I think the government will have to keep on printing money due to the COVID-19 situation. That is the only strategy they have at the moment. Eventually, it is going to hurt the same people executing all this printing as it will lead to dollar hyperinflation. Certainly, that's going to help Bitcoin and other sound money, like gold for example. I believe holding your money in fiat is not very smart these days.
Are Altcoins Following Bitcoin?
The whole crypto space is tied together and Bitcoin is kind of the crypto reserve currency. Thus, everything is kind of tied to Bitcoin, so it is not unexpected that if Bitcoin does well, so will all the other coins too. Similarly, if it doesn't do well, it will bring everything down.
How did Magical Crypto Friends happen?
Magical Crypto Friends is a podcast that the 4 of us, Samson Mow (Blockstream's CSO and Pixelmatic's CEO), Riccardo Spagni (lead maintainer of Monero), WhalePanda (Famous Bitcoin expert), and myself are doing. This came by accident a little over a year ago where someone on Twitter tweeted that the 4 of us should do a podcast together. We had become "the biggest trolls on Twitter", and that suggestion seemed like an interesting idea. We are quite different from each other from different backgrounds, and that is why we decided to do it. The podcast is going well, and we have expanded the platform even further to participate in events and conferences as well.
Who is your Favorite Podcaster?
I think Peter McCormack's "What Bitcoin Did" is really good. He interviews all kinds of people in the space. He is not very technical, so he comes from a non-technical point of view and he has very good questions. He makes technical and difficult topics very easy to digest, which is good for beginners and newcomers. I think that is a very good podcast for everyone to check out, and learn about the space.
Are the new games created on blockchains good or bad?
A game has to be fun to play. A game will not be successful only because it is on the blockchain. For example, there is a game called Litebringer on the Litecoin blockchain I enjoy very much. I think it is a unique game and it takes advantage of the blockchain very well. I invested in Satoshis.games, a web-based gaming platform where every digital interaction within the games is charged and rewarded. Also, it makes the gaming experience more sophisticated and interactive using microeconomic incentives. They are doing Lite Night, a multiplayer battle-royale game with in-game Bitcoin rewards. I also invested in Samson Mow's company that is creating the Infinite Fleet game. They have hired AAA game developers, designers, and graphics artists, so it is more than just a game on the blockchain for the sake of being on the blockchain.
Interviewer , Editor : Lina Kamada
【Disclaimer】
The Article published on this our Homepage are only for the purpose of providing information. This is not intended as a solicitation for cryptocurrency trading. Also, this article is the author's personal opinions, and this does not represent opinion for the Company BTCBOX co.,Ltd.