Thank you for always supporting and using BTCBOX.
We would like to inform you that we will be suspending some services during New Years holiday from Thursday 31st December 2020 to Sunday 3rd January 2021. Please look below for details.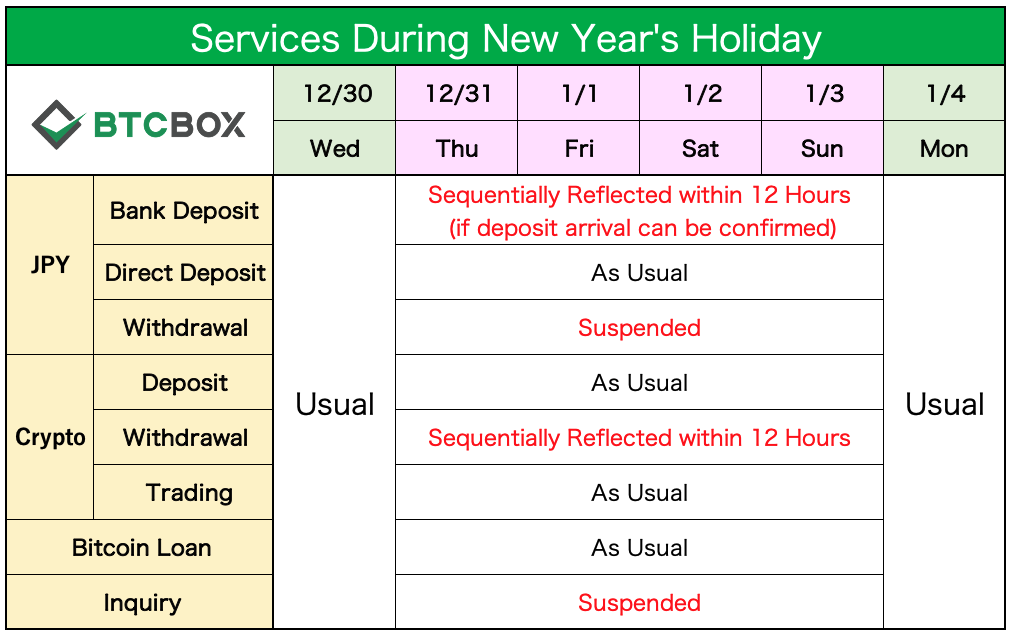 Suspension Period (4 days)
Thursday 31st December 2020 ~ Sunday 3rd January 2021
Suspension of Services
Inquiry
Account opening related screening
Withdrawal of Japanese Yen
Available Services
Cryptocurrency Trading ( of all crypto assets available)
Easy Trading
Japanese Yen Bank Deposit (if deposit arrival can be confirmed)
Japanese Yen Direct Deposit
Bitcoin Loan
Remittance Reflection of Crypto Assets
Application for a New Account registration
Please note the final reception of Japanese Yen Withdrawal will be by 14:50 (JST) on December 30th, 2020. In case it exceeds the final reception time, the withdrawal will be reflected after Monday, 4th January 2021.
Japanese Yen deposits will be processed within 12 hours after the receipt has been confirmed by the Company.
In principle, Crypto Asset withdrawals will be reflected sequentially within 12 hours, however, in case large withdrawals or withdrawal request congestion occurs, please note that withdrawals may be available after 4th January.