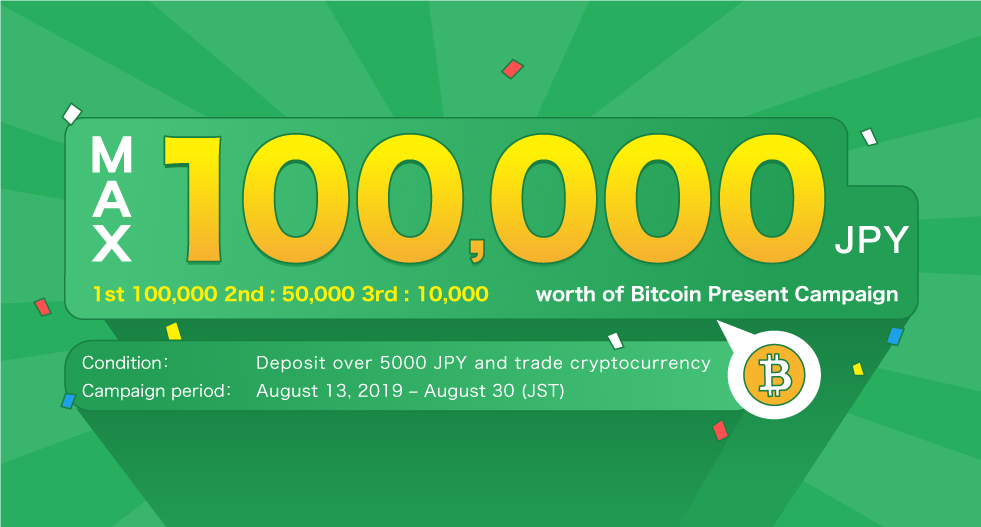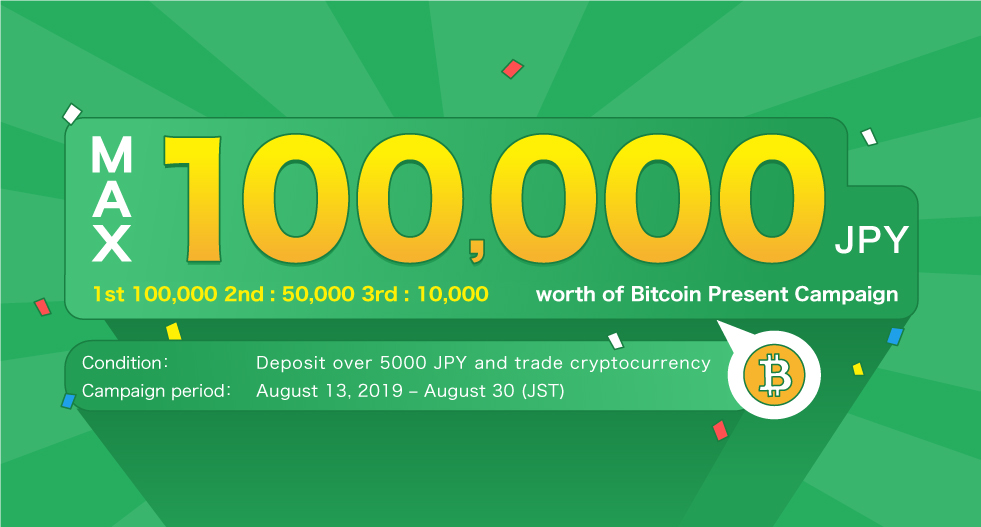 The second summer campaign will be coming to you as our gratitude for your constant support. Please feel free to participate.
【Campaign period】
August 13, 2019 11:00 a.m. – August 30, 2019 11:00 a.m.(JST)
【Details】
We will choose from participant who deposit over 5000 JPY and trade with cryptocurrency at random. The chosen 8 participants will receive a maximum 100,000 JPY worth of Bitcoin.
【Prize】
1st prize: 100,000 JPY worth of bitcoin / 1 person
2nd prize: 50,000 JPY worth of bitcoin / 2 persons
3rd prize: 10,000 JPY worth of bitcoin / 5 persons
【Conditions】
Accounts that meet all of the following conditions will be allowed to participate in this campaign automatically.

・ Accounts that have deposited over 5000 JPY and reflected in the account balance during the campaign
・ Accounts that have been over total trading amount of over 5000 JPY during the campaign
・ Japanese domestic personal accounts, overseas personal accounts (corporate accounts are not eligible)
【Grant】
The winner will be selected after this campaign. Accounts that can be used normally on the present delivery day may be eligible for transaction (accounts that cannot be used due to cancellation, freezing, etc. will be ignored)

Scheduled issuing day: Friday, September 6, 2019
Details of the sweepstakes will be sent to the winners only by email.
* We will notify you in advance if the winner announcement is delayed.
【Notice】
・ It takes 2 to 6 days to open an account. However, it may be delayed due to application status or incomplete identity verification. Please register in advance.
・ It will be ineligible for the campaign if JPY was not reflected in the account during the campaign period. (Click here for deposit fees and reflection time. )
・ Orders not executed or trading amount less than 5000 JPY will be ineligible for the campaign.
・ Participants need to meet the campaign conditions.
・ The prize will be calculated at the exchange rate of our exchange at 24:00 the day before the grant announcement date.
・ Bitcoin will be reflected in your account.
・ This campaign might change, cancelled or extended without notice.
The cryptocurrency operated by our company complies with the cryptocurrency defined by the Japan Financial Services Agency and the Finance Bureau in the Assets Settlement Act. The Financial Services Agency, the Finance Bureau and our company do not guarantee or recommend the value of the cryptocurrency. The cryptocurrency does not necessarily have the back assets.Please pay attention to the following points when trading the cryptocurrency. The cryptocurrency is not the legal currency that is supported by the government such as yen and US dollar. It is an electronic data on the Internet. The price of cryptocurrency may fluctuate drastically. There may be a sudden drop or loss of value, and you may suffer losses. The cryptocurrency exchange needs to register with the Financial Services Agency and the Finance Bureau. We are a chartered cryptocurrency exchange (Charter Number: East Japan Local Finance Bureau No. 00008).When trading with cryptocurrency, please read the explanatory documents (The terms of use, etc.) on our website and decide by yourself whether or not to transact. Advisory on fraud in cryptocurrency is increasing. Pay more attention when using cryptocurrency. It is necessary to guard against fraud and other illegal activities. For example, people may decoy to provide assistance in registering the cryptocurrency exchange.
The cryptocurrencies currently traded by our company are approved by the Financial Services Agency and the Finance Bureau.