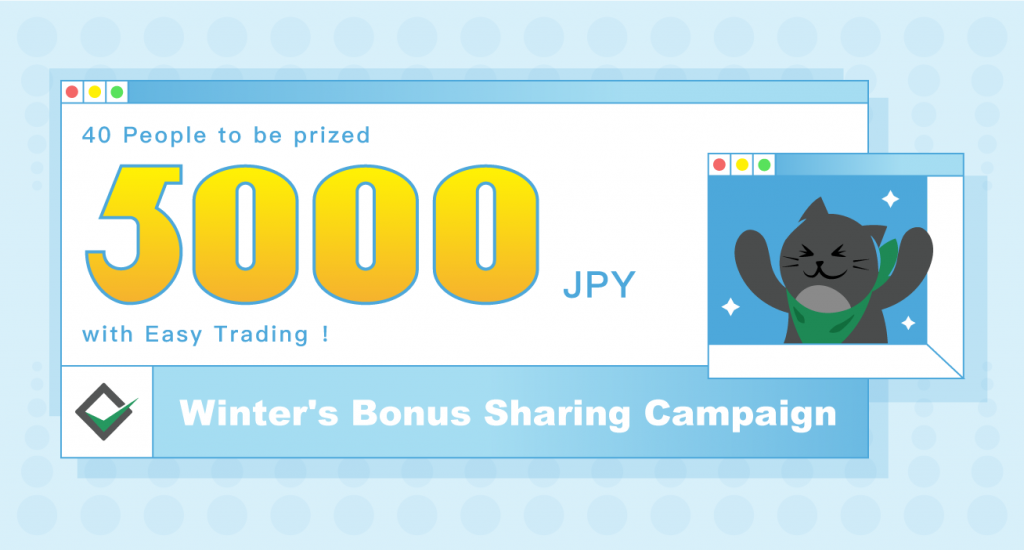 Thank you for always supporting BTCBOX.
At BTCBOX, We are running a " 40 People Win 5,000 JPY with Easy Trading"
Even beginners can use Easy Trading to trade cryptocurrencies easily. We are giving away a gift to 40 lucky winners who buys and sells Bitcoin using "Easy Trading"
【Reward Content】
5,000 JPY × 40 Customers
The reward prize will be reflected in the customer's account balance
【Participation Requirements】
The accounts that meet all the following requirements will be automatically enrolled
Deposits 5,000 JPY or more to their account during the Campaign period

Accounts with a cumulative total of 5,000 JPY or more in Bitcoin traded with Easy Trading during the campaign period

Domestic Personal Account, Overseas Personal Account (Corporation account are not eligible)
【Campaign Period】
30th November 2020 ~ 31st January 2021(JST)
【About the Drawing Lots and Prize method】
After the campaign, a strict and fair drawing will be conducted, and candidates to be rewarded will be determined. At the time of the Campaign, only registered accounts that can be used as usual will be eligible (Cancelled or frozen accounts, etc.that cannot be used are considered non-eligible accounts)
Present Winning Contact Period : End of February 2021
The selected candidates only will receive a notification email about the prize money details.
【Disclaimer】
If you use Speedy Personal Identification, you will be able to open an account on the same day. However, in case of personal identification by postcard, it may take from 2 to 6 days. Moreover, depending on the application status or personal identification invalidity, it may take even longer. For the users who do not have an established account, please register and open an account in advance.
In case the deposits are not reflected in the account balance within the campaign period, the account will not be eligible for this campaign.
Please note that this campaign may change, get suspended or postponed without prior notice.
Notice on Cryptocurrency
1. The cryptocurrency operated by our company complies with the cryptocurrency defined by the Japan Financial Services Agency and the Finance Bureau in the Assets Settlement Act
2. The Financial Services Agency, the Finance Bureau and our company do not guarantee or recommend the value of the cryptocurrency. Cryptocurrency does not necessarily have the back assets
3. Please pay attention to the following points when trading cryptocurrency.
(1) Cryptocurrency is not the legal currency that is supported by the government such as yen and US dollar. It is an electronic data on the Internet.
(2) The price of cryptocurrency may fluctuate drastically. There may be a sudden drop or loss of value, and you may suffer losses.
(3) The cryptocurrency exchange needs to register with the Financial Services Agency and the Finance Bureau. We are a chartered cryptocurrency exchange (Charter Number: East Japan Local Finance Bureau No. 00008).
(4) When trading with cryptocurrency, please read the explanatory documents (The terms of use, etc.) on our website and decide for yourself whether or not to conduct a transaction.
(5) Advisory on fraud in cryptocurrency is increasing. Please pay more attention when using cryptocurrency. It is necessary to guard against fraud and other illegal activities, as people may decoy to provide assistance in registering the cryptocurrency exchange etc. Cryptocurrencies currently traded by our company are approved by the Financial Services Agency and the Finance Bureau.
5. Status of the Clause
This clause is a translated version of the Japanese manuscript. It is only for reference and has no legal effect. Please refer to Japanese manuscript for details.