The campaign has ended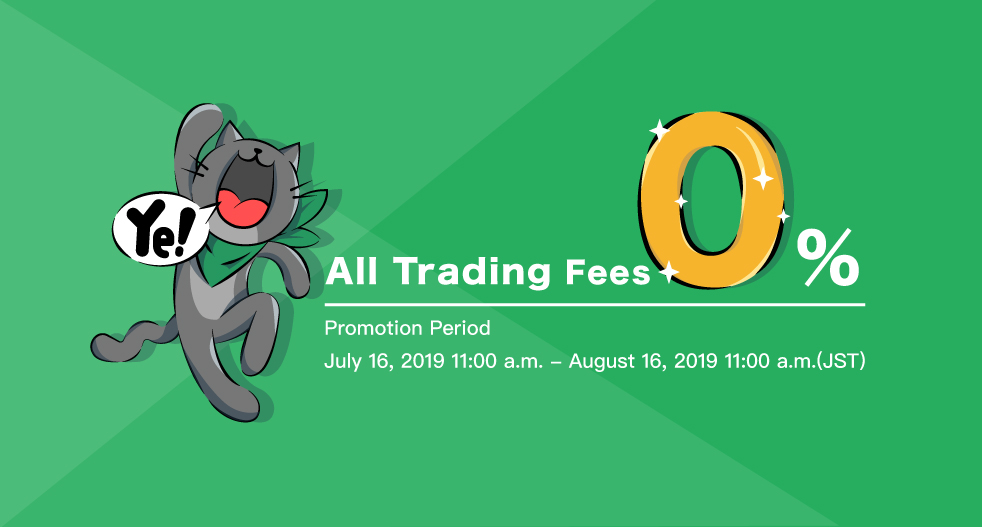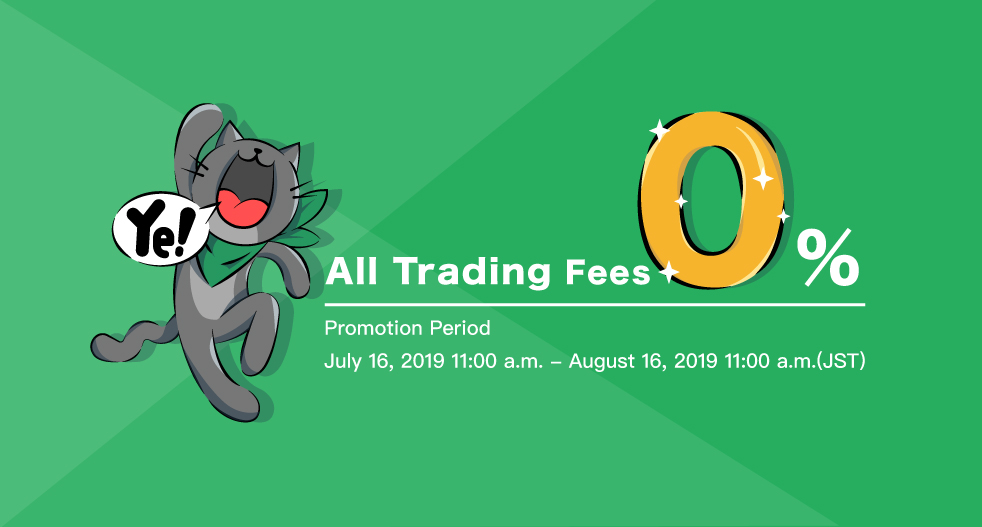 Thank you for always using BTCBOX.
We would like to express our gratitude for your constant support with our first Summer Campaign with the following point. We are offering ''Free Trading fees'' service. For more, please use our BTCBOX site.
Promotion event period
July 16, 2019 11:00 a.m. – August 16, 2019 11:00 p.m.(JST)
Promotion event introduction
During the promotion event, all customers will receive a 0-trading fees service. BTC loans is not included in this promotion.
Promotion range
(Other fees, such as JPY/cryptocurrency withdrawals, and BTC loans, are not included in this promotion)
Precaution Points
・Trading is unaccessible until registration & authentication are completed.
・This promotion event may be changed or cancelled without prior notice.
・Information check process is necessary during authentication. Depending on the status of the review, the process may need more time for the application to be accepted , or it may be denied.
・If an account's owner violates the relevant items of ''the Terms of Use'' in Article 24, we have the right to terminate the usage of the account, freeze assets, or conduct measures that is appropriate to our company's policies.
・For cancelled accounts, re-authentication is necessary before resuming transaction.
・Accounts still in the process of registration or that will be certified at the end of the event, will not be included in the campaign scope.
・The time base of this event is July 16, 2019 11:00 a.m. – August 16, 2019 11:00 p.m. JST
・By the end of this Campaign, all orders that have not been executed will not be included in the campaign.
The campaign has ended
The cryptocurrency operated by our company complies with the cryptocurrency defined by the Japan Financial Services Agency and the Finance Bureau in the Assets Settlement Act. The Financial Services Agency, the Finance Bureau and our company do not guarantee or recommend the value of the cryptocurrency. The cryptocurrency does not necessarily have the back assets.Please pay attention to the following points when trading the cryptocurrency. The cryptocurrency is not the legal currency that is supported by the government such as yen and US dollar. It is an electronic data on the Internet. The price of cryptocurrency may fluctuate drastically. There may be a sudden drop or loss of value, and you may suffer losses. The cryptocurrency exchange needs to register with the Financial Services Agency and the Finance Bureau. We are a chartered cryptocurrency exchange (Charter Number: East Japan Local Finance Bureau No. 00008).When trading with cryptocurrency, please read the explanatory documents (The terms of use, etc.) on our website and decide by yourself whether or not to transact. Advisory on fraud in cryptocurrency is increasing. Pay more attention when using cryptocurrency. It is necessary to guard against fraud and other illegal activities. For example, people may decoy to provide assistance in registering the cryptocurrency exchange.
The cryptocurrencies currently traded by our company are approved by the Financial Services Agency and the Finance Bureau.