Thank you for your constant support.
We would like to announce that the company will suspend part of our services during the golden week holidays for the period 2022 May 3rd to 5th.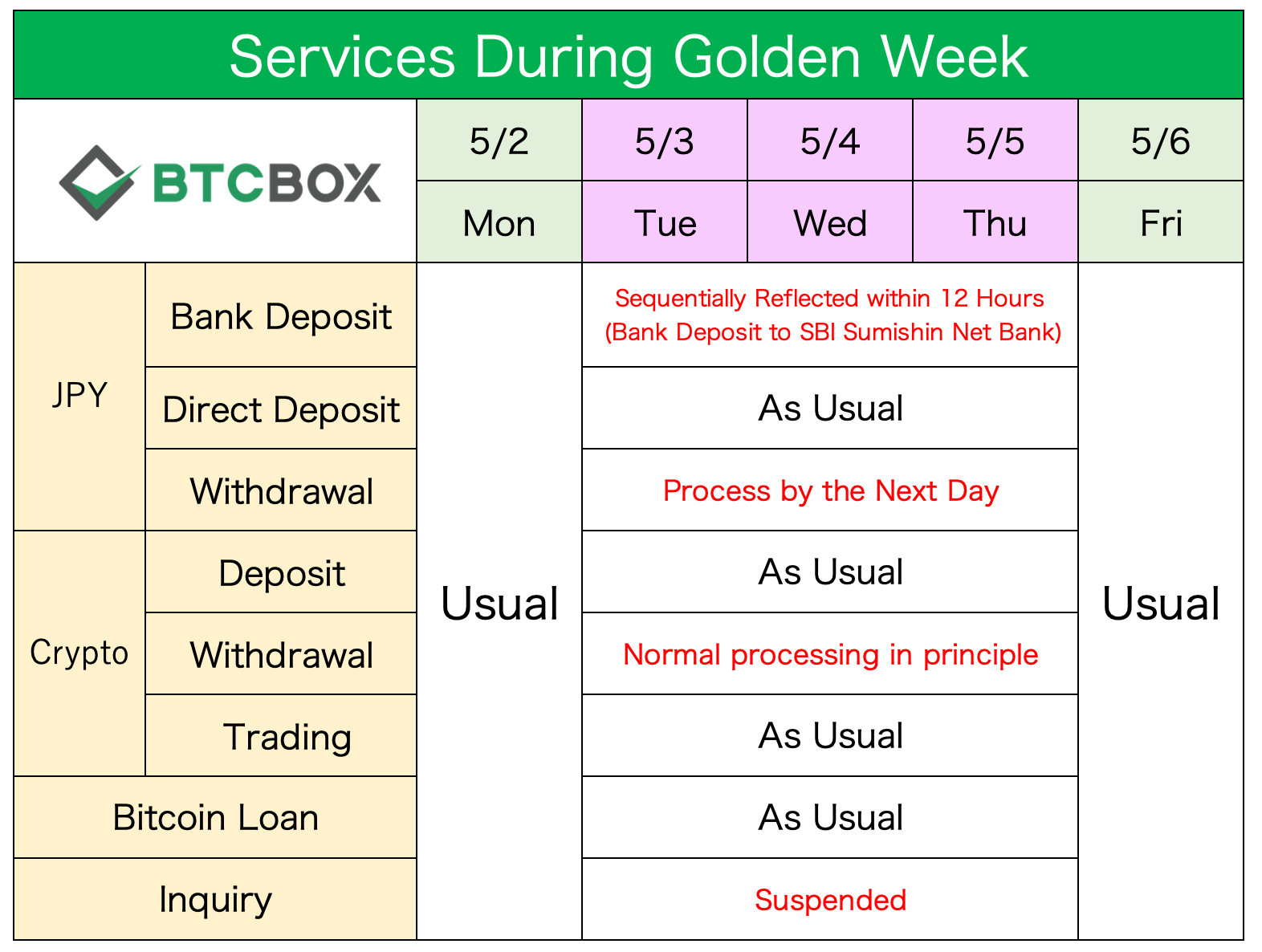 Service Operation Changes
Bank Transfer Deposit of Japanese yen
SBI Sumishin Net Bank: Sequential Reflection within 12 hours
Ion Bank: Not available from May 3rd to 5th
Direct deposit service is available 24 Hours as usual. Please click here for more information about handling fees and usage.
Withdrawal of Cryptocurrency
Normal processing in principle
Withdrawal of Japanese Yen
Execute Bank Transfer by the following day
We will carry out the Bank transfer by the following day, however depending on the customer's designated Bank Deposit process, the deposit may be made after 6th May. For more information, please confirm with your bank. Please note that after transfer processing, we cannot cancel the transfer.
For withdrawal of more than 10,000,000 Japanese Yen, we will process your withdrawal from May 6th in sequential order.
Enquiry
During the Golden Week period, both chat and email will be suspended. If you have any questions about our operation, please read here for guidance and assistance. If you have any emergency system complications, we will support you as usual.
Services Operations as usual
Cryptocurrency Trade (All coins)
Bitcoin Loan
Cryptocurrency Deposit Reflection
Direct Deposit of Japanese Yen
Account Opening Reception
※ Account Opening reception will be available, however, the screening will be done after May 6th at Company.